Today my Strategy class participated in the Injaz Innovation camp workshop. I had my class participate last year, and the experience was so positive for the students I was looking forward to participating again.
Injaz holds many such programs around the UAE - you can learn more about them at their website here:
Injaz UAE
. The unique thing about Injaz is that their programs combine public/private sector volunteers, members of academia and Injaz employees to provide students with unique, hands on and fun learning experiences.
The company that volunteered their awesome mentors today was Kier Construction - a UK company with a growing presence in the Middle East and Asia. Their website is here:
Kier Construction
The students that attended were largely "recruited" by myself and Dr. May Al Taie and were for the most part Business/IT students. Dr. May is the first female Emirati faculty we have at Zayed University, she is a role model to our female and male students and I am very happy to say she is a colleague of mine with a similar teaching philosophy and a great love of our students.
I will tell the story through photos - but read the captions for details!!!! I tweeted much of the day - but here is a chance to see all the photos in one place :)
Ready to start the day!
Ice breaker and team building... try to break into the closed circle... this was a strictly males only activity!
The volunteer couldn't break this group apart!
Building the highest tower with paper - it helped that table 5's volunteer was an engineer.... especially when they were no longer allowed to speak with each other as the "build" progressed! (Table 5 won this challenge)
Everyone working together....
A different construction technique....
Brainstorming about the skills needed and used for the different team building activities.... (my favorite skill they listed was "spying" which we explained is actually called business intelligence!)
Lunch is served!
Interviews about nonsense concepts... a great activity...
After lunch it was time to develop a sales pitch for a business model - the tower is still standing!
Great interactions with our Kier Construction mentors!
A brief introduction to Kier Construction by the UAE General Manager - and insight into working for a growing and dynamic private company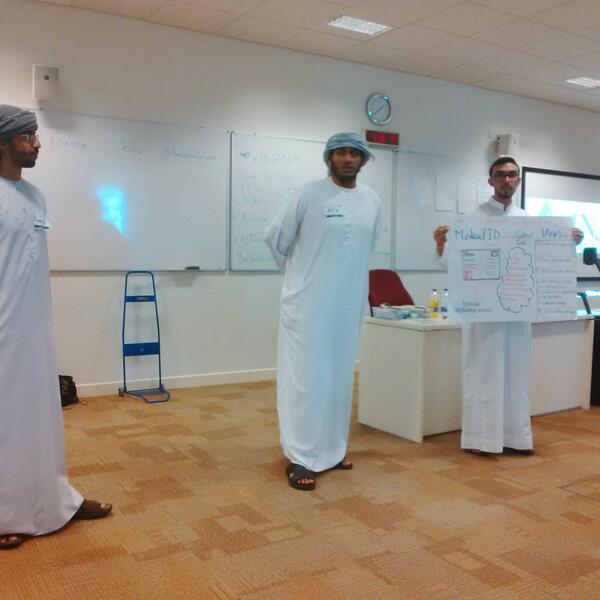 Group 1 presentation Medical Appointment application (the eventual winners!)
The pitch presentations! Group 2 presentation Zyara app for visitors to Abu Dhabi
Pitch 3 for the Zhama app to let smart phone users know where the traffic is
Group 4: an industrial/construction zone for Abu Dhabi
Presentation 5: street light sensors to save electricity
It was a great day... thank you Injaz and Kier Construction for providing our students an opportunity to learn through the interaction of the public and private spheres! Looking forward already to the next one :)